We offer an enriching career path through interesting yet challenging job roles that synchronizes your growth with the organization. We look for talent and tenacity that would result in dedication and devotion to the work. We expect our team to produce awesomeness that delights our customers'. We do not accept half-hearted attempts. With no compromise, we choose a small fraction of the incumbents.
If you have it in you, then you will probably know how to get our attention.

 
Our pledge to the National Human Rights Commission of India, on not to discriminate people either directly or indirectly through actions, words or deeds.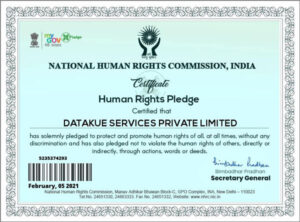 Sales & Marketing
Operations & Delivery
Finance & Accounts
HR & Management
* Highlights indicate current positions & openings
* The no. of positions & openings are from the particular department
There are 60+ openings and more to come through. Employment with Datakue comes with a feast of benefits. Best performance will be noticed quickly and rewarded. There are 20+ perks waiting for the candidate who is willing to go all in for Datakue.
Note: As a policy, any fresher is accepted only after successful internship with us.