We offer an enriching career path through interesting yet challenging job roles that synchronizes your growth with the organization. We look for talent and tenacity that would result in dedication and devotion to the work. We expect our team to produce awesomeness that delights our customers'. We do not accept half-hearted attempts. With no compromise, we choose a small fraction of the incumbents.
If you have it in you, then you will probably know how to get our attention.

 
Our pledge to the National Human Rights Commission of India, on not to discriminate people either directly or indirectly through actions, words or deeds.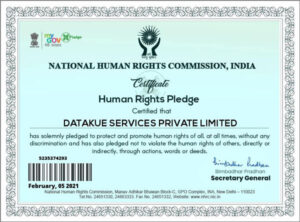 Sales & Marketing
Operations & Delivery
Finance & Accounts
HR & Management
There are 60+ openings and more to come through. Employment with Datakue comes a feast of benefits. Best performance will be noticed quickly and rewarded as well.
Before you fill out the application form below, go through the details of opening and understand what it demands. You may then return to this page to apply for it, after gathering all information including your photograph. Every field in the application form is required and we use certain data for the statistics of diversity and smooth operational planning as India is unique with numerous holidays. Incomplete and inaccurate applications are your wasted opportunity.
If you dont have a photograph, click one using your mobile phone and probably take it to "canva" for resizing to less than 1MB before attaching.